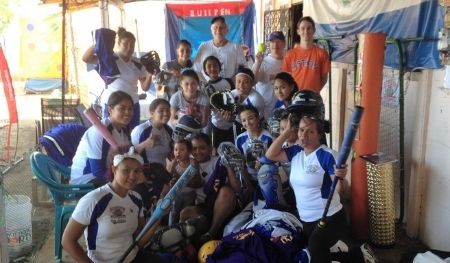 --Excerpt from Chapter 4 of beyond Baseball: Rounding First--
  "Welcome to the most dangerous neighborhood in Nicaragua!" The man shook our hands, introducing himself as Denis Martinez, the catcher, not the pitcher. "And welcome to the Academia Mimadas Rubilena Rojas, Nicaragua's only softball academy!"
  Behind Denis stood a line of young, athletic women, each in a blue and white uniform with the academy's logo across the chest. Jay winked at me and nodded towards the girls. I had told them over breakfast that I was single, but hadn't elaborated on the mess that is my love life (I use the present tense there because I'm sure, whenever you read this, it will still be a mess).
  We had originally pulled up in our truck, bags of softball equipment in the back, at one of the saddest ball diamonds I had ever seen. The entire field was dry dirt. No baselines or batter's boxes were chalked. Instead of bases, someone had simply sprayed white spray paint in a heap in the general area where bases should have been. A wooden board had been dropped where the pitching rubber would have resided. The outfield had no fence.
  One girl wearing a jersey with number 15 across the back sat in the cement bleachers behind home plate. Besides her, the field was completely empty.
  "You sure this is the right place?" Craig asked Sergio, looking around the empty field. Prior to the trip to Nicaragua, Craig had asked him to try to find softball teams in Nicaragua to donate to. It had proved a challenging task. Women were not typically allowed to participate in athletics in the country, strict gender roles relegating them to domestic activities. Sergio had been tipped to this field by a friend of a friend who thought he had seen a team of girls playing on it, the best tip we had received in Managua.
  Helping Kids Round First was officially formed by Craig in 2009. The efforts of the non-profit were grassroots at first, simply Craig carrying suitcases of baseball gear with him on flights to Nicaragua and giving it out when he arrived. However, his link to Nicaragua far preceded the non-profit. He had spent most of the 1980s in the country helping to support the leftist Sandinista movement in their fight against an oppressive dictatorship and their subsequent efforts to reform the country's economy, education system, and agricultural processes.
  His first donation of baseball gear to Nicaragua had come in the '80s. Following long, dangerous days fighting to dispose of the Somoza Regime, the rebel soldiers would return home and trade in their rifles for well-worn leather baseball mitts. The army had just one bat and one baseball, which was chased down and taped up endlessly during their daily games. Craig, working exhausting days doing manual labor with other foreign volunteers, replacing local soldiers in rural fields picking crops to allow them to fight, arranged for a new bat and ball to be delivered to the troops.
  Three decades later, he was still helping Nicaragua and still looking to enact change. After years of bringing baseball equipment to the country, wondering how he could help women gain more opportunity, he had decided to add a stipulation to all of his baseball donations. Any team that accepted a donation of baseball gear would also receive an equal amount of softball gear which they would have to find a local girl's team to give to or start one in their community.
  "There's going to be push back," Craig warned me in the airport during our planning session. "There will be men who disagree with women playing sports. But, baseball is going to help us cause change."
  The difference in opportunity between men and women in Nicaraguan sports was glaringly evident when we entered the softball academy, the girl who had been waiting at the field sitting in the bed of our pickup shouting directions to Sergio through an open window. On my first trip to Nicaragua, as a player, we had the opportunity to play at and tour Dennis Martinez's (the pitcher) baseball academy in the city of Rivas. The academy featured a spacious, well-kept field with bullpen mounds down each foul line and a batting cage beyond the right field fence. A large dormitory housed all of the players with classrooms and a mess hall attached. The academy had no shortage of equipment, buckets of balls were scattered around the field as were bags of bats. Each player had their own name brand glove and was outfitted in a full uniform and metal spikes.
  The same could not be said about the softball academy. We were given the full tour, Denis and a female instructor leading, the girls trailing behind, waiting to jump in to demonstrate the different drills and equipment they used for practice. The academy was housed in a warehouse building much like the one we had rented to store our equipment. About fifty feet of spotty green turf lined the floor inside. Surrounding it, mismatching netting was hung and tied together to form a batting cage.
  Denis showed off the academy with pride. The girls had recently won the Central American Women's Softball Championship, a six-team tournament featuring teams from Belize, Costa Rica, El Salvador, Guatemala, and Panama, despite their lack of equipment and facilities.
  "Most of the girls that come here are very poor. Some are homeless. We do our best to provide for them with the resources we have." He pointed into a closet-sized room with cement walls. Three cots filled the room. "Some of the girls sleep here at night. We find room if others need a bed."
  We stepped into the room to look one at a time. With the cots taking up almost all of the floor space, there simply wasn't room to fit multiple people in the room at once.
  "The biggest problem we have is girls coming here hungry. You can't train, practice, or get better if you haven't eaten. We do our best to have food available, even if it's not much." We poked our heads into an equally small kitchen. Two girls in uniform sat next to a metal pot set over an open flame. A mixture of rice, beans, and chicken simmered inside. "The girls take turns cooking for each other."
  We were led next to the far side of the batting cage. Metal posts with a spiderweb of bungie cords hanging from it held a softball in place at waist height.
  "Most of our equipment is homemade. This one I made myself. The cords make the ball come right back in place so you can hit again." The girl in the number 15 jersey who had met us at the field stepped up to demonstrate. The grey bat in her hands was visibly dented and any logos that had adorned it were long worn off. "Since we don't have very much equipment, we focus on using proper technique and mechanics."
  Number 15 walked us through an elaborate routine before swinging the bat. First, she held the bat up flat across her shoulders, showing that the length of the bat from the end of the barrel to the grip on the handle was as long as her shoulders were wide. Then she laid the bat down across the home plate on the floor, the end of the bat touching the far front corner of the plate. She marked with her foot where the end of the bat rested, then turned the bat ninety degrees so the barrel pointed behind home plate. She lined her back foot up with the end of the bat and then her other shoulder width away.
  "That's how we line up every time we hit, to make sure we have the right size bat and are standing in the right place. We learned that from Crystl Bustos."
  Bustos, a two-time gold medalist cleanup hitter for Team USA softball, had visited the academy with Venezuelan softball star Ruby Rojas (for whom the academy was named), instructing the players on all facets of the game. The girl then swung for us in slow motion, breaking down the parts of a proper swing, Denis narrating the whole process. She took a few ferocious, full-speed swings, making contact with the ball with a satisfying crack, the entire contraption shaking from the force.
  We were led outside where the academy's top pitcher was getting warm. The bullpen was nothing more than a strip of sidewalk with netting set up at the end to stop wild pitches from escaping. A mannequin with a batting helmet on its head was propped up near where the catcher sat in over-sized catcher's gear. The pitcher stood balanced on a two-by-four, propped up so it angled down towards home plate.
  "This helps with balance and mechanics. If you don't use proper technique, you'll fall off." The girl went through her motion, throwing a strike and landing gracefully on the board. Had I ever been required to pitch on a balance beam, I would have ended up in the hospital.
  We were shown the academy's lone batting tee next and another contraption Denis had made.
  "This lets four girls practice at once, since we don't have very much space." He had taken a piece of orange pipe, about five feet tall, and pounded it into the ground. At the top, four smaller pipes stuck out horizontally like helicopter blades. A thick strip of leather hung from each. He instructed four girls to demonstrate how it was used. They lined up surrounding the machine, each facing one of the strips of leather. In unison, they swung. The strips of leather spun around the pipe after they made contact.
  "The one that spins the longest is the winner," Denis told us as the girls prepared to swing again. "Behind, you can see our weight room." He gestured beyond his contraption. I tried to see what he was pointing to, but only saw a pile of boulders stacked against the fence surrounding the academy.
  "We have rocks of all different weights. It's not much, but it works. We have one more batting machine back by the weight room. I made it by hanging a scuba diving fin from a post. It works well for teaching the girls to swing through the ball."
As the only softball academy in Nicaragua, this was the best of the best available to women in the country.
  "Facilities and equipment have been a big challenge for them," Ruby Rojas told me about the academy named in her honor. She had visited first with Bustos on a trip sponsored by the US State Department to help empower women and girls through sports around the world and made subsequent return trips to Nicaragua on her own to continue supporting softball in the country. Despite the humbleness of their academy, Rojas was impressed by the girls' passion for the game during her visits.
  "I was really touched by how much the girls there wanted to learn. It did my heart good to see them embracing the sport the way they did."
  Rojas works globally to help empower women and sees great value in using sports as a tool to pursue that goal.
  "Girls can turn to softball to give them a reprieve from what they're facing away from the field. The relationships they make, the lessons they learn, and the importance of teamwork and unity they experience will carry over to help them in many facets of their life. It gives them hope, which you can't put a price tag on."
  We held a small ceremony in the bullpen, the girls crowded in, some sitting on plastic chairs, others standing. Craig talked briefly about the non-profit before focusing on his mission to help give women more opportunity in sports in Nicaragua. He lauded the girls for their dedication to the game despite the adversity, opposition, and poverty they faced each day. Jay and I were pulled up front to present the top hitter and top pitcher from the academy with brand new Spalding gloves.
  Denis followed by thanking us profusely for our visit. While he spoke, we were presented with heaping plates of rice, beans, chicken, and tortillas. Only after we had finished eating were we allowed to present the equipment we had brought for the academy. We had six duffle bags full, complete with bats, helmets, catcher's gear, shorts, game pants, uniforms, dozens of softballs, and a new glove for each girl. During the ceremony, the girls had formed a polite semi-circle facing Craig, Jay, and me. When we started unpacking the gear, they crowded around us, eager to see their new equipment. I began handing gloves to the girls surrounding me. Every time I handed another glove from the bag, a chorus of thank yous rained on me in both English and Spanish. The girls' ages varied widely, from early teens to early twenties, and they distributed the gloves to their teammates according to size.
  Soon, the small bullpen area became hazardous as the girls swung new bats, broke in their new gloves playing catch, hit balls off new batting tees, and tested new catching gear. I pulled Denis aside, eager to hear more about the academy and the impact the donated equipment would have.
  "This is a very dangerous neighborhood," he told me. "There is a lot of crime, a lot of drugs, and a lot of abuse here. Without softball, many of these girls would be on the streets. Some were homeless, some were addicted to drugs, most were in broken homes when they came here. Some already have children of their own." He gestured towards a small toddler running back and forth between the girls, a batting helmet bouncing up and down as she ran, a glove on each of her hands.
  "Here, they can have different lives. They have food here. They have a place to sleep here. For many, this is their home and this is their family. Scholarships are available through sports, so softball gives them an opportunity for an education and a career they could not afford otherwise. We are able to meet their basic needs here and give them the chance to do more with their lives.
  "We train the girls physically here to be better athletes and better softball players. But, we also focus on training them mentally. Women are not respected here, especially in this neighborhood. Abuse against women is common. We work hard to improve their self-esteem and their confidence. We want to..." Sergio, who had been translating the conversation for me, paused.
  "I'm not sure how to say that word in English." He pulled out his phone to translate the word. "Empower. They want to empower women in this neighborhood."
  "Softball gives hope to other girls in the neighborhood as well," Denis continued. "Seeing our girls in the stadium, playing just like the men, gives women pride. Young girls in the neighborhood know that there will be opportunity for them to play, to come to the academy, to have a home and a family someday. It's an incentive for them to stay away from the drugs and the crime that are easy to fall into here.
  "It truly is a miracle that you found us today." He had been watching the girls play with their new equipment while he spoke, but he turned now to look me in the eyes. "You see the equipment we have. It is not much. The equipment you brought us today will keep this academy running. When I was younger, I traveled to the United States. I got to watch softball and baseball practices there. I will never forget how much equipment they had. The outfielders had a bucket of balls to take fly balls with, the infielders had a bucket of balls to practice fielding with. The pitchers had their own bucket of balls. The hitters had a bucket of balls. The catchers had a bucket of balls. They had enough bats for everyone to be hitting at once. All the different positions could practice at the same time. Here, at the academy, we have one bucket of balls and just a few bats. Only one or two girls can be practicing at a time. This is the first time anyone has donated to our academy and now we will be able to actually practice."
We shook hands. I found Craig standing in the middle of the chaos, talking with a few of the players. A look of relief came over his face when he saw Sergio was available to translate and his broken Spanish could be given a rest.
  "Sergio, could you tell them that we will be back here in the future with more gear and ask what kinds of equipment they need most?" Sergio relayed the question to the girls. They conferred for a few moments before answering.
  "We always need more softballs. And shoes, if it's possible. Normally, we share shoes for our games." I hadn't noticed prior, but most of the girls were in sandals. Only a few were wearing tennis shoes. "And we don't have any batting gloves. And..."
  She tailed off. The other girls started giggling.
  "And, we need softball underwear." Bright red had crept into her cheeks.
  "Well, we have lots more softballs and some batting gloves in the warehouse," Craig told them. "We'll make sure some get to you. We should be able to get shoes to you on a future trip. As for the softball underwear, I'll buy some sliding shorts new for you ladies. Don't think you would want those to be used." We all laughed as the girls thanked Craig.
  After taking a series of pictures, some formal, all of us lined up in front of the piles of equipment, some silly, each of us wearing a batting helmet and holding bats and gloves in the air, we bid the academy farewell and returned to the truck.
--Read the rest of this chapter and learn more about softball in Nicaragua in Beyond Baseball: Rounding First--
Categories: None