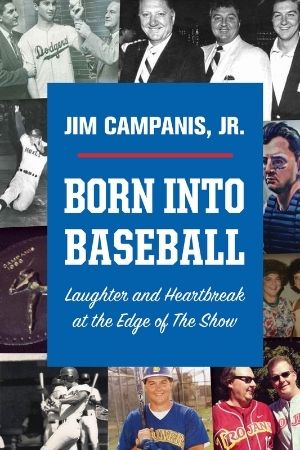 Authors and Authorship Part 8: Jim Campanis Jr. grew up in and around major league ballparks and clubhouses.  The grandson of the general manager of the Los Angeles Dodgers and son of a major league catcher, Campanis Jr. brings a wealth of stories, anecdotes, and firsthand experience from his family and his own baseball career, giving readers a glimpse behind-the-scenes into major and minor league life, in his new book Born Into Baseball. 
Q: Your family has a long baseball tradition with success both on and off the field-but also some controversy (however unfair or misconstrued it may have been)-What do you want the Campanis baseball legacy to be?
Great question and MAJOR reason I wanted to finish my book. I too believe, as many do, that my grandpa was a pioneer who helped to forge a new direction in baseball. He taught Jackie Robinson how to play second base the year before he was called up to Brooklyn. Their friendship was so close that Jackie even showed up to my dad's 3rd grade class to be his show and tell (A story in the book). I hope my book will enlighten people to the true character of my grandpa. That is something people tell me about on social media often so maybe we are changing the perception of my grandpa Al's legacy.


Q: Your book tells some humorous stories from the baseball locker clubhouse-what's your favorite story from the book readers should be looking forward to?
When you are 20 something and living your dream, sometimes players can get a bit, let's say, "Cocky". And maybe they decide to walk up to the after game food spread NAKED. That is a punishable offence in the eyes of the self-governing body of the team--also known as the Kangaroo Kourt. I list several offenses and break down the process. Most MLB and minor league teams still hold court to this day.


Q: As a child, you had the unique opportunity to be in and around the ballpark while your dad played in the Majors. There's been a lot of controversy early this season about children and their place in the clubhouse. Do you think there's a place for the children of players in the locker room?
I totally believe the kids of players have a place in the clubhouse. Of course, I'm completely biased as I learned the game at a very early age from professionals wearing a cut down Pirates uniform. Most importantly the experience taught me how to behave in the clubhouse, on the bus, on the field and how to get along with a large group of large personalities. I suppose there is a limit to how far kids in the clubhouse should extend and maybe the White Sox felt the envelope had been pushed too much recently. However, I hung out with Bret Boone, Aaron Boone, Jose Mota and his brothers, Pete Rose Jr and dozens more kids of players growing up. Their experiences also helped propel them to the pros. I think it's natural for young boys to want to emulate their fathers. So why not on a baseball field?


Q: You broke your wrist the same day you were called up to the Majors. Looking back on it now, talk me through the emotions of that day.
It was the third pitch of the game and a foul tip fractured the pisiform bone in my left wrist. I taped it up and finished the game only to watch my wrist balloon when the tape was cut off. At the time, I thought it wasn't a big deal. I figured I'd get another chance and capitalize on another opportunity but that window never opened again. Looking back, it is still a sore spot. Maybe writing this book is an effort to try to make the big leagues in another way?


Q: What did you learn about the writing and publishing process while writing Born Into Baseball that you wish you'd have known when you began the book?
This book is a complete accident! I was working for an ad agency with a ton of baseball fan co-workers. We also had a nice break room with a KEGERATOR! We'd sit around after work, sip on some craft beers and watch games when inevitably I would remember a story and tell the group. These guys would crack up and have me repeat these stories to clients. It got me thinking---maybe I should write these down! I was curious to see what others thought about my stories, so I started posting them on Facebook. The positive response was OVERWHELMING! Soon, an author friend named Tom Owens contacted me to ask if I wanted to be introduced to the publisher of Summer Game Books, Walt Friedman. We started an email dialogue and finally he asked me to send him what I had written. He called it a "manuscript" and I called it 450 pages of random baseball stories I've collected over the years. Walt called me a few weeks later and offered me a deal. I had no clue what to do with over 150 stories, but Walt meticulously when through my stories and found 8 chapters for 100 of the stories. I couldn't have done it alone. I consider myself very lucky finding Tom and Walt.


Q: You've had a very successful book launch (I saw the receipt from your first post office visit!)-What marketing/promotion strategies have you found to be most successful as your book has hit the market?
I have run a marketing company for over 15 years but now it's a bit odd--it's for my campaign. I did many of the same things I've done for clients including setting up digital presences on social media and a website. I also work very hard on creating compelling content for the presences such as teaser photos and stories, memorializing personal appearances, engaging the base of loyal followers to share my content and more. I also have teamed up with my dad to do book signings at Rotary clubs, ball parks, community events and more. I take every radio/podcast interview I'm offered and seek out big personalities. I'm scheduling a slot with ESPN radio now with Jeremy Schaap and trying to get on the MLB Network this summer. The marketing next phase is to strategically target baseball fans and baseball book readers through social media advertising campaigns once I can get more awareness of the book through the publicity. This tactic is highly efficient and reaches targeted readers who can click a button and buy the book. Collectively, these activities add up to a lot of impressions which leads to more awareness which leads to more sales.


Q: Born Into Baseball is your first book. What did you find most challenging during the writing process? What has been most rewarding?
My biggest challenge as I mentioned earlier was--what do I do with 150+ random baseball stories? I couldn't find a beginning, middle or end! Once the chapters were set up by my publisher and the stories were allocated to the chapters, it came together quickly. The most rewarding time was two-fold. First was when people liked and commented on my first posts on Facebook. I used to post the stories at 9am sharp for many days/weeks and by noon my page was blowing up. Some people commented how they laughed with me, while other times, people admitted to shedding a tear with me. Those were extra special moments because, for the first time, I realized my writing had caused an emotional response from the reader. The other time when I felt the most satisfaction was when I opened the first box of books and held that first book in my hands. I flipped through the pages of the book quickly as I inhaled the intoxicating scent of ink on paper! Certainly when the first orders started to hit my autographed book site, BornIntoBaseball.com, I also felt that all the hard work was beginning to pay off. The bonus reward has been how much my family has been there to help me with the sales fulfillment. On Mother's Day, my mom insisted on being "Quality Control" and insured the sold books had all of the bonus material, a shipping label and then she packed up hundreds of books for delivery! My dad and I are also doing speeches and book signings together. It's been a blast and he's loving every minute of it as I am as well. We have a tour set up in WA in July hitting Walla Walla, Yakima, Everett, Belingham, then down to San Jose and Saratoga then hitting AZ. Another road trip!!!
Categories: None