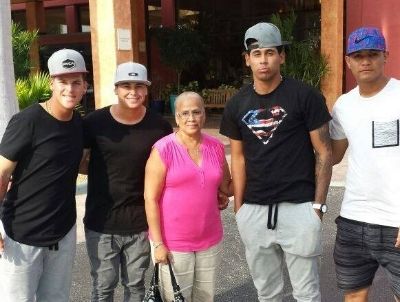 Boston Red Sox English instructor Milagros Estrada (center) with students/prospects (L to R) Jhonathan Diaz,
Raiwinson Lameda, Junior Espinoza, and Hildemaro Requena



By current regulations, 13-year-old Jimy Kelly wasn't even old enough to serve as the bat boy for the Toronto Blue Jays when he signed his name on his first professional contract with the team in 1984.


The outcry from around baseball was swift and severe following the Blue Jays' acquisition of the young Dominican shortstop. Critics loudly questioned whether Kelly's signing broke child labor laws. Scouts wondered how young the slippery slope of international signings would take them. If a team was willing to sign a 13-year-old, how much younger would they be willing to go to find talent?


Within the year, Major League Baseball answered that question, establishing guidelines for international prospects and barring teams from signing any player younger than 16, a restriction still known off-handedly as the "Jimy Kelly Rule".


Kelly debuted for the Blue Jays Rookie League affiliate in 1985 as a 14-year-old. Despite being more than five years younger than the average player in the league, Kelly led all shortstops in double plays turned, showing off the smooth fielding skills that had led scouts to peg the adolescent as a future major league star.


Despite his success defensively, Kelly struggled both on and off the field, lacking the maturity—both physically and intellectually–to succeed as a minor league baseball player. He batted a combined .186 his first two seasons. Away from baseball, he struggled to adapt to life in the United States, had difficulties learning English and fitting in with his older teammates, and was stricken with loneliness.


"He made a whole lot of phone calls back home," Rocket Wheeler, Kelly's manager during his first professional season, said when asked about Kelly's transition to the United States. A Sports Illustrated feature on Kelly in 2012 reported that Kelly racked up over $1000 in long distance phone charges during one of his first months in the States. "When you're that young and that far away from home in a foreign country, most people are going to be homesick."


Kelly was out of baseball before his 20th birthday. He finished his six-season minor league career with a .203 lifetime batting average. It took years for him to get his life in order, ending up homeless following his career and bouncing between odd jobs, his lack of education making stable work difficult to find.


Although Kelly is the most glaring case of the American baseball dream gone wrong, the same problems he faced on and off the field continue to challenge Latin American prospects today.


Since managing Kelly, Rocket Wheeler has spent over thirty years coaching minor league baseball players (he currently manages the Carolina Mudcats, the Atlanta Braves A+ affiliate). Coaching in the low minors, Wheeler frequently works with the youngest Latin American prospects in professional baseball.
 
"Coming over to a foreign country, learning the language, their diet is definitely different here than where they come from, getting to know their teammates, living away from home…" Wheeler stated, listing some of the challenges he's seen players endure while adjusting to life in the United States.


International scout Nick Holmes has seen Latin American players struggle with many of the same things.
 
"For the players, education is one of the biggest roadblocks they face. They come to the United States and they can't speak English, they can't ask for anything they need, they can't do simple math, and they have no idea what their coaches are saying to them."


Major league teams are well aware of these problems and are taking steps to alleviate the struggles faced by international prospects during their transition to the United States. This season, Major League Baseball officially required every one of its teams to employ two full-time Spanish-language interpreters, and education programs for international prospects have become commonplace around the league.


The Boston Red Sox have been one of the most successful baseball franchises in developing Latin American talent both at the major and minor league levels. Their current major league lineup prominently features multiple Latino stars–Pablo Sandoval, David Ortiz, Hanley Ramirez, Xander Bogaerts, Christian Vazquez–and nine of their top 20 minor league prospects were born in Spanish-speaking countries.


Because the age limit for international signings remains set at 16-years-old to this day, an age at which players would not have had the opportunity to finish high school in their home countries, the Red Sox have established a comprehensive education program for their Latino players, incorporating English lessons as well as cultural training to help players adjust smoothly to life in the United States. English-language instructor Milagros Estrada has been imperative to the Red Sox's program and to the players she teaches.


Milagros' role is multi-faceted. She teaches English, American culture, life skills, money management, and United States laws to the players, serves as their liaison and problem-solver, and in many cases, as a surrogate mother to players adjusting to being away from their homes and families for the first time.


"I wear many hats when it comes to the players. They are in this country for six to seven months and have a lot of things to deal with in this country. They have to learn our language, laws, and culture–all while dealing with the emotions of being away from their loved ones as well as keeping up with their training. We want them to be whole individuals, able to express themselves with conviction and poise on and off the field."


Milagros meets with the players at their team hotel for language classes, placing an emphasis on using online resources to help the players develop both language skills and proficiency in using technology. Cultural instruction often takes place in natural settings like restaurants, giving her students authentic opportunities to use their language skills and experience cultural situations.


Milagros has spent the last seven years working with Red Sox prospects, a position she was hired for unexpectedly. Working as an English-language instructor for adults in Lee County, Florida, she was asked to assess the English proficiency of a Red Sox player. After working with her, the player returned to his coaches and recommended the team hire her full-time.


"The rest is history in the making. It's funny, I believe God puts you in the right place at the right time."


When asked about her favorite moments working with her Red Sox students, Milagros tells stories of players who were initially too shy to speak even in front of their own teammates in English who became confident in the language and their skills. When asked to speak about her impact on their lives and careers, none of her students were shy with their praise.


"She is a very good teacher," Mauricio Dubon, one of the Red Sox top overall prospects, said of Milagros. "She is kind and cares about her students."


"Her job is to be our English teacher, but she doesn't settle with just helping us with that. She gives us advice, helps us with any inconvenience we have outside of class, and she listens to us when we have a problem. She cares about each and every one of us," Wendell Rijo, a second-baseman for the Red Sox AA-affiliate Portland Sea Dogs, said. "She is like a mother for all of us."


"The truth is, she is the best of all." Daniel Gonzalez, a pitcher for the Greenville Drive, Boston's Class A affiliate, responded when asked about Milagros. "She is more than a teacher. For me, she is my second mother."


"She is an excellent teacher, kind and caring with all of us. She treats us like sons and teaches us a lot." Speaking in Spanish, Yankory Pimentel, a pitcher for the Salem Red Sox (A-Advanced), added extra o's to the word 'mucho' (a lot) to stress her impact. "It's difficult to be so far away from your family, but much easier because she is there. I don't think I'd have had the same success without her."


The future is bright for the Red Sox. They currently hold the best record in the American League (29-18) and have one of the top-ranked farm systems in all of baseball, both thanks in large part to their Latin American talent at the major and minor league levels. With the presence of Milagros Estrada and her unsung impact on many of Boston's current and future top players, Red Sox fans can be confident their international stars will be able to overcome the many pitfalls that plagued Jimy Kelly's career and continue to find success on and off the field in the United States.
Categories: None