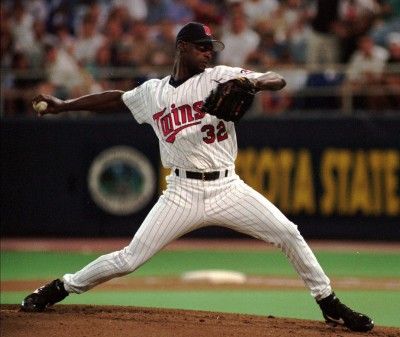 After more than two decades pitching in the major leagues, Latroy Hawkins retired following the 2015 season. In this 3 Strikes interview, he reflects on the cinderella 2002 Twins, his life since retirement, and the many uniforms he wore during twenty-one big league seasons with eleven franchises.
Strike 1: You pitched twenty-one seasons in the majors. What kept you going so long? What has been the best part of retirement so far?
The one thing that kept me going for so long in baseball was that I loved the challenge each and every day I woke up. I loved competing against the best in the world. I enjoyed everything about baseball...fans, coaches, teammates, clubhouse guys, PR guys, security guards, grounds grew..I loved and enjoyed every relationship I made in my time in the game and the tireless pursuit of wanting to be the best.  

The best part of retirement has been spending time with the family and going on sumer trips like normal families do. Summer is the time the kids are out of school. But in baseball, summer is the middle of the season and most times our kids get stuck watching baseball all summer, so it was nice to break that up after twenty-one years. I've gotten to my 25th high school reunion, 1st time ever. I love sitting by the pool with the family and not having to worry about getting on a plane and catching up to the team after a day off at home.
Strike 2: You were a member of the 2002 Twins "Team That Saved Baseball". What is your favorite memory of that successful season playing with so much pressure and adversity?
The team that saved baseball? We didn't see it like that. Our great manager Tom Kelly told us from Day 1 and reminded us every day in 2001 "why worry about things you can't control?"  We had one job and that was to win as many games as possible whether we were being contracted or not. After the 2001 season, I got a phone call from from Tom Kelly saying he was stepping down. It came as a complete shock and left me wondering if we had, as a team, done something to force him to step down. TK prepared us every day in 2001 telling us to only worry about what we can control. 


My most memorable moment of 2002 was actually the whole year. I could see how close we were to becoming a winning team in 2001 after some very low years to finish the 90's. To see how we were the punching bag in the AL Central and then turned into the bully, that was my most memorable part.


Strike 3: You wore a lot of different uniforms during your career. With the current uniform controversy going on in Chicago--what was your favorite uniform you played in and what was your least favorite?

My favorite uniform was every big league uniform I wore. I thought like that as a player and even more so now looking back. Most players don't understand that baseball is a business and it is ran as such. Players have to understand that. My favorite Twins jersey was the all red. We didn't wear it much, but I liked it a lot.

Interested in hearing more from LaTroy? Download the TuneIn app on your mobile device or listen online. Tune in to the MLB station from 7-midnight (EST) on weeknights for live listen-ins and analysis across the league from LaTroy.
Categories: None